LifeBioBRAIN: Cognitive Screening Prototype for Alzheimer's or Other Forms of Dementia
Posted By: Beth Sanders | Posted On: 27 September, 2023

A study conducted at the Brown Medicine Geriatrics Practice established that a geriatric primary care population with mild cognitive impairment or dementia found the LifeBioBRAIN (LBB) cognitive screening prototype usable. The study also demonstrates the usability of cognitive testing on a take-home device in a geriatric primary care setting. This work was funded by the National Institute on Aging SBIR program. The app is not yet in market; further clinical trials and advancements in scoring are ahead. 
LifeBio's goal is to further develop LifeBioBRAIN™ for use by primary care providers (PCPs) and outpatient physicians (neurologists, psychiatrists, neuropsychologists) to use as a cognitive screening tool to determine the need for further comprehensive neurological and neuropsychological assessments.
As LifeBioBRAIN progresses in development, it will be an app-based, convenient, user-friendly cognitive screener that clinicians might use similarly to traditional pen and paper screening tools which could then prompt referral for further neuropsychological testing and/or consultation with a neurologist or neuropsychologist.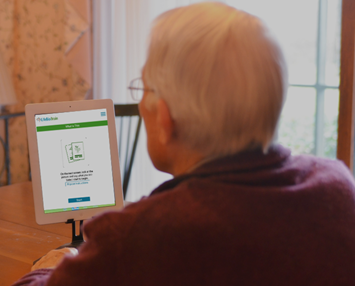 Development will focus on improving the game-like interface of LBB to identify cognitive function (in areas such as memory, attention, executive function, etc.). 
LifeBioBRAIN will continue to advance as an automated, engaging, fast, and accessible system for screening for early detection of cognitive impairment and dementia.
Dementia affects a large population of older Americans. The US has a large, aging population, and the percentage of the population aged 65 or over is projected to grow from approximately 17% in 2020 to 21% in 2030.1 (Figure 2). Coupled with the projected increase in population size for the same period, this corresponds to a 33% increase in the number of people aged ≥65, with a projected total of 75.5 million people in 2030. This startling increase over the next decade will drive enormous growth in the demand for health care services for older people, many of whom will at some point develop Alzheimer's disease or related dementias.
In the United States, the number of individuals living with Alzheimer's Disease and Related Dementias (AD/ADRD) is expected to increase from 6.7 million to 7.2 million by 2025 and reach 11.2 million by 2040.1 Currently, $345 billion is spent annually on the costs of care associated with AD in the U.S. ($222 billion by Medicare, Medicaid alone).1 In 2021, the annual global cost of dementia was estimated to be more than $1.3 trillion and is expected to rise to $2.8 trillion by 2030. This figure includes unpaid care provided by family/friends, direct cost community care/residential/senior living/home care, and the direct costs of medical care (the costs of treating dementia and other conditions in primary and secondary care).2 Older non-Hispanic Blacks and Hispanic Americans are disproportionately more likely than older Whites to have Alzheimer's or other dementias. Data from the Chicago Health & Aging Project (CHAP) study indicates 19% of Black and 14% of Hispanic adults aged 65 and older have Alzheimer's dementia compared with 10% of White older adults.
Cognitive screening for dementia will be important because patients with neurodegenerative diseases including Alzheimer's Disease suffer from cognitive, motor, and neuropsychiatric difficulties. It is important to differentiate between normal cognition and provided adequate treatment to use possible pharma and non-pharma approaches with the patient, thereby assisting the family caregiver too.
LBB holds potential for adoption across a spectrum of healthcare settings, from individual practices to bustling large group practices, hospital networks, academic medical centers, and research projects. Early adopters are likely to include individual primary care physician offices seeking to enhance practice efficiency through LBB's rapid examination capabilities in a quiet space in the clinician office, as a take-home, or as a downloadable app test. Its succinct, game-like test format will enable clinicians to swiftly gauge the need for a more comprehensive neuropsychological assessment.
For more information, reach us at info@lifebio.com or call 937-303-4576. This work was funded by the National Institute on Aging SBIR program, grant number NIA SBIR 1R43AG076341-01.