Hospitals
Body, mind, and spirit are all important in the healing process.
LifeBio improves patient experience by helping hospitals capture the life stories of long-stay patients and patients facing Alzheimer's Disease, dementia, other chronic conditions, or terminal illnesses.
LifeBio's reminiscence methods and life review process has been found to increase happiness and satisfaction of life, lower depression, and improve mood for people with dementia. Hospital delirium is a common condition among patients 65 and older and talking about familiar memories and photos is an appropriate way to connect. Mayo Clinic uses LifeBio's approach in social support groups for people with mild cognitive impairment or early-stage dementia with great success. 
The LifeBio process flexes and can involve the patient, a key family member, volunteers, social workers, or chaplains. Both online access and physical journals are utilized in hospital settings. In order to meet a hospital's needs, LifeBio provides materials, training, and ongoing support from our Story Team. Having the finished life story or one-page snapshot summary visible in the patient's room or available inside the Electronic Health Record (EHR) supports patient-centered care and improves the family and patient experience.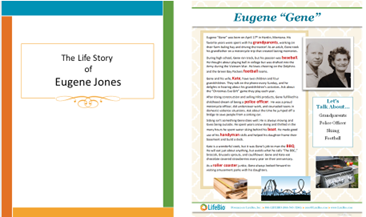 LifeBio has high-tech and low-tech options available to help capture life stories of hospital patients.
LifeBio offers custom license agreements, which include materials, training, and ongoing support. We are happy to provide you with more information, a sample pack, or a custom quote.