Long Term Care/Skilled Nursing
Knowing a person's story helps staff learn who a person is and enhances person-centered care.
We empower family members, volunteers, or staff members to quickly and easily record a resident's life story. LifeBio highlights a person's life patterns and preferences, helping direct care staff learn the best, individualized approach to care each day. LifeBio shows your commitment to deliver the best in person-centered care and memory care.  

See our new LifeBio Memory app in action. It works on both iOS/Android tablets or smartphones. Staff, family, or volunteers can easily engage residents to learn their amazing stories. Having a resident's VOICE captured is priceless.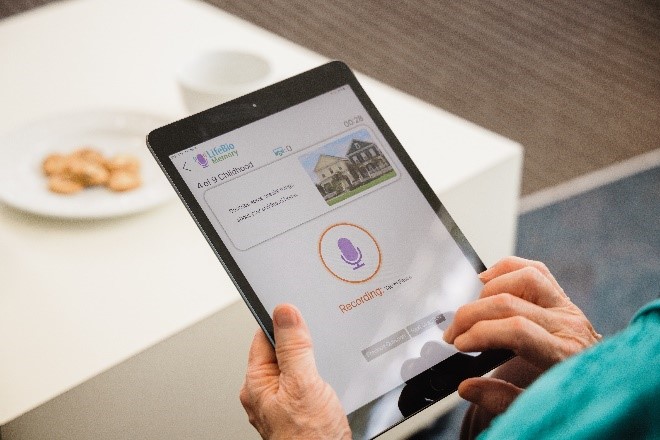 CMS regulations related to LifeBio: 
Person-Centered Care– 483.5 – Enhance quality of life and recognize individuality.  
Comprehensive Person-Centered Care Planning– 483.21 (F636, F656) – Know strengths, goals, life history, and preferences. Attain or maintain the resident's highest practicable physical, mental, and psychosocial wellbeing.
Life Enrichment/Activities– 483.24 (F679) – Know interests, hobbies, and cultural preferences. Create opportunities for each resident to have a meaningful life by supporting domains of wellbeing. 
Behavioral Health/Dementia Care– 483.40 & 483.24 (F679) – Individualized care  plans must be developed based on resident's previous lifestyle and reduce boredom, loneliness, and frustration. Knowing the person's history is key.
The LifeBio Memory app will voice record a person's story OR it can help the family record the story too (if someone is unable to communicate themselves). In addition, Phone Interviews are an alternative method to create the story. When stories are captured, LifeBio will deliver the following: 
Life Story Book – For the resident and family to enjoy!
Snapshot Summary – To display for others to learn more about the person 
Action Plan – For care planning and staff onboarding (supporting workforce development)

As a LifeBio Authorized Organization, you will also receive:  
Online training and phone/email support 
Phone Interviews with family members (for residents with dementia or other communication challenges)
Engagement materials, including Story Cards and the MemoryBio photo album, for memory care

Let's get started!  Call 937-303-4576 with questions or email info@lifebio.com!  
LifeBio is an evidence-based program designed to improve quality of life for residents in Long-Term and Skilled-Nursing care.
LifeBio offers custom license agreements, which include materials, training, and ongoing support. We are happy to provide you with more information, a sample pack, or a custom quote.