Research and Health Care Transformation
LifeBio captures life stories for better health and improves social connectedness. LifeBio also builds loneliness interventions and agetech solutions to help people living with Alzheimer's and their caregivers. 
For more on Research on Life Story Work & the Power of Life Stories for Better Health click here. 
LIFE STORY WORK (PRESENTED AT GERONTOLOGICAL SOCIETY OF AMERICA 2022)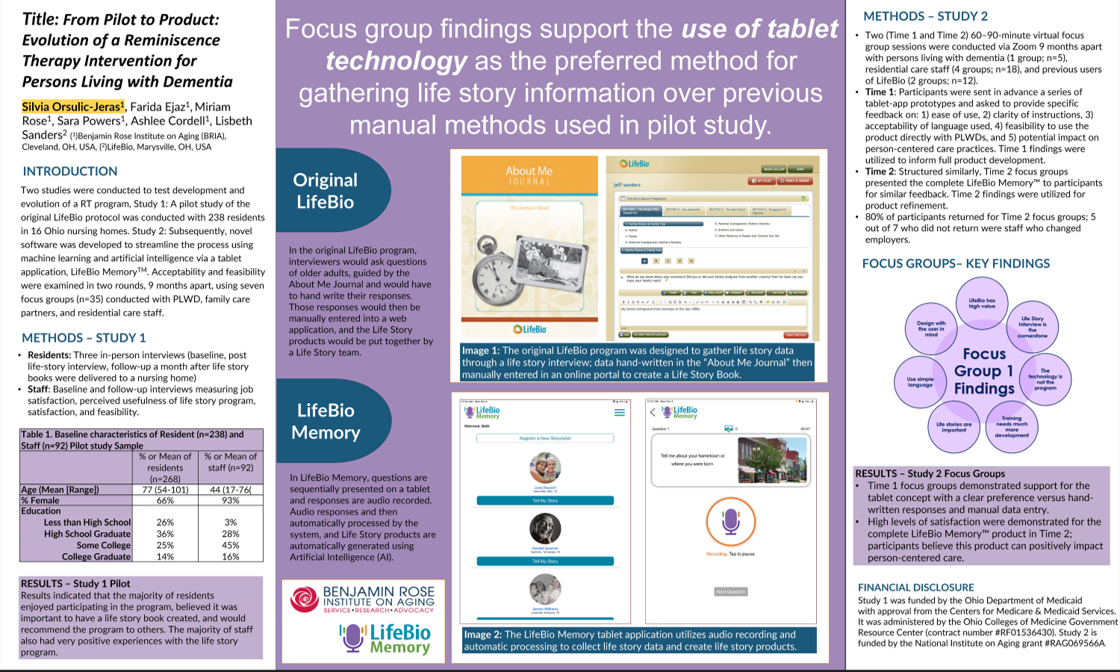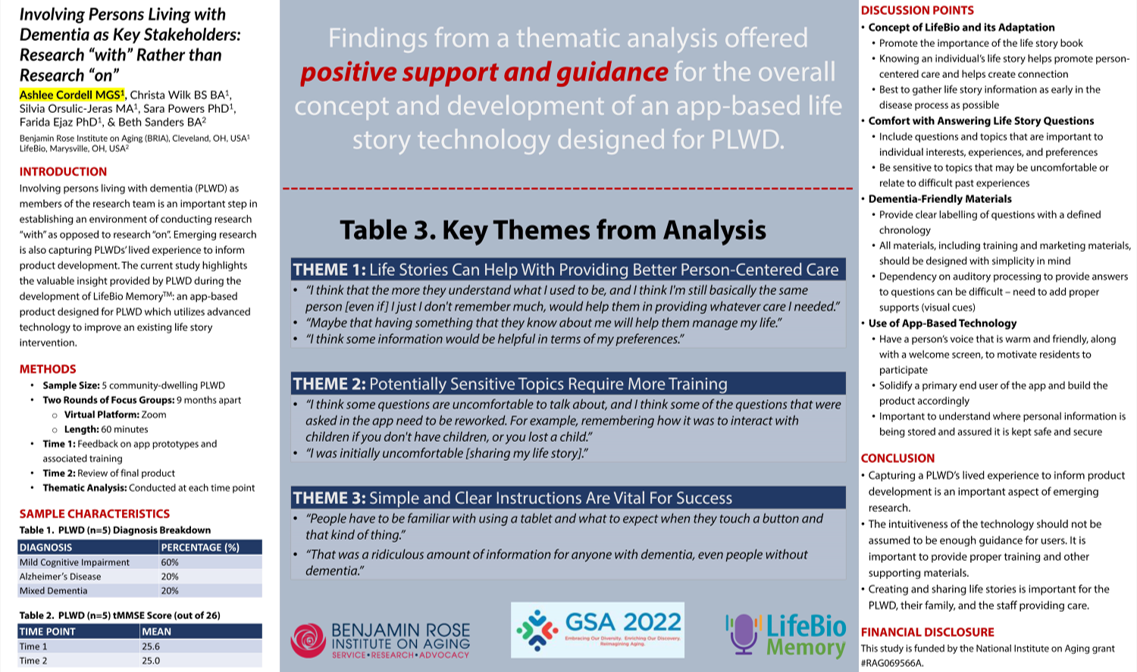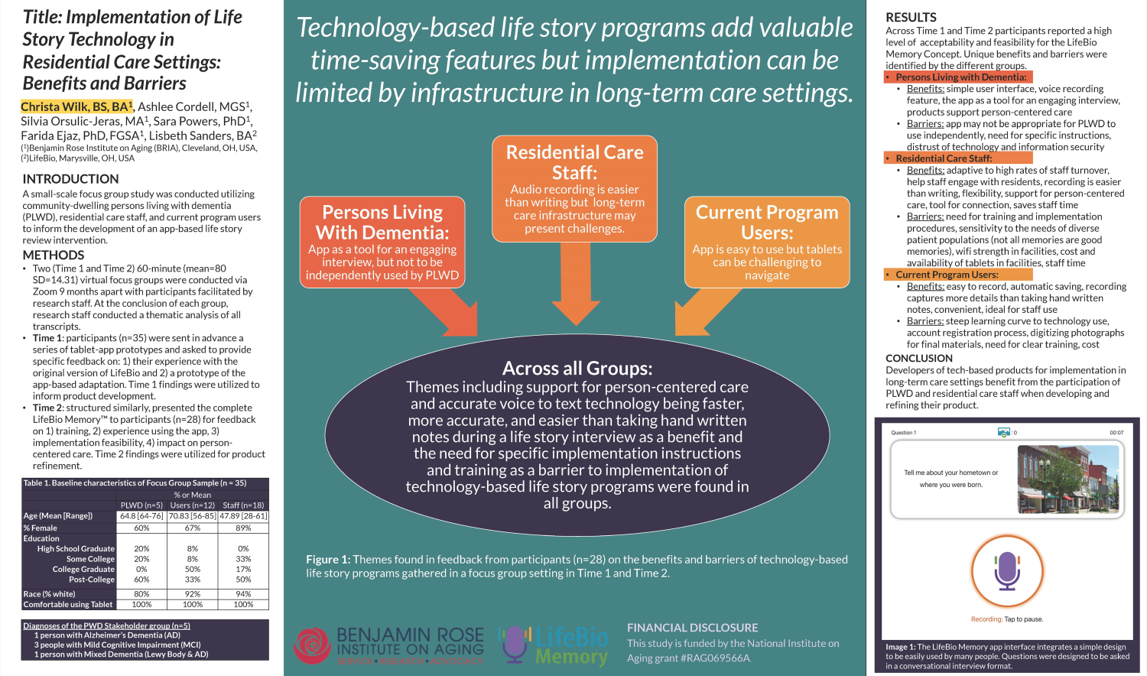 LONELINESS & INCREASING SOCIAL CONNECTEDNESS  (PEER TO PEER / MYHELLO) - PRESENTED AT GERONTOLOGICAL SOCIETY OF AMERICA 2022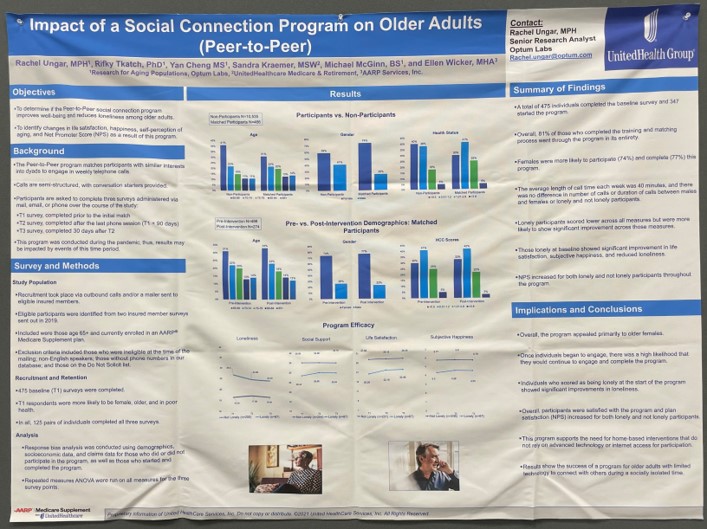 LifeBio and health plans (and other providers) are reporting positive outcomes on innovative approaches to help address loneliness and social isolation using research-backed engagement and life story work methods. Resilience, optimism, purpose, and social connectedness are resulting from tech-powered interventions and face-to-face engagements. LifeBio and MyHello's tech-powered phone interventions move the needle to reduce loneliness (a major health risk).
As a loneliness intervention implemented by major health plans, here is an article that shares how loneliness and social isolation impacts overall health costs and health outcomes.  Full article: Cumulative effect of loneliness and social isolation on health outcomes among older adults (tandfonline.com)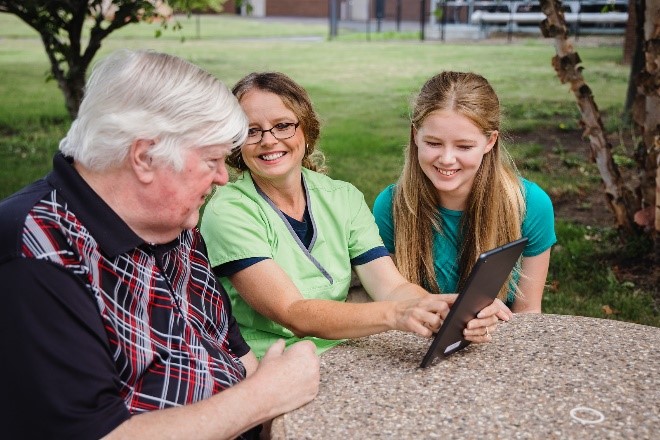 Positive Psychosocial Protective Factors (PDoH) and Increasing Social Connection to Reduce Loneliness Makes a Difference – Lowering Cost of Health Care Significantly
LifeBio (life story work online or face to face in care settings) & MyHello (live phone-based social engagement using our life story work methods) are concrete ways to increase protective factors. 

A 2021 study from UnitedHealthcare and AARP finds that there is $1,356 saved per year per person for each psychosocial protective factor (Personal Determinants of Health - PDoH). Protective factors include resilience, social connectedness, etc. See more here: 
The additive impact of multiple psychosocial protective factors on selected health outcomes among older adults - ScienceDirect
Return on Investment by addressing Personal Determinants of Health 

An AARP report on Medicare members found...
35% are low on purpose -- costing 12% more PMPM
19% are lonely -- costing 20% more PMPM 
40% have a negative perception of aging -- costing 33% more PMPM
LifeBio (online/app) and MyHello (tech-powered using any phone) build stronger feelings of purpose and resilience, while reducing loneliness using life stories for better health. 
Telephonic Solutions for Medicare Members

Research from group interactions within a health plan led to positive outcomes from life story work as well. See published study information here: LIFEBIO: PARTICIPANTS' EXPERIENCES IN A TELEPHONIC-BASED REMINISCENCE PROGRAM | Innovation in Aging | Oxford Academic (oup.com)

The LifeBio Project - Decreased Depression in Nursing Homes, Helped Staff Deliver Care
The LifeBio Project was implemented and evaluated in a pilot study in 16 Ohio nursing homes funded by the Ohio Department of Medicaid. This is one of the largest studies of life story work in the United States to date. 
"Life story programs hold promise for improving person-centered care and relationships between nursing home residents and staff. A pilot life story intervention study in 16 nursing homes provided residents with complimentary biographical life story books and summaries, and staff with action plans to enhance care planning. Trained volunteers and program staff collected life stories, and researchers interviewed 170 residents at three points in time. Overall, residents had positive experiences with the program, but were less willing to share their books with others afterwards. They also experienced a decrease in depression (Patient Health Questionnaire-8 [PHQ-8]) over time. Surveys of 92 staff demonstrated increases over time in perceived importance of knowing residents' life stories. Administrator/admissions staff found it conditionally feasible to incorporate the program into admission processes. Practice implications of life story work include opportunities to help staff learn more about residents they care for, improve person-centered care, and honor resident preferences in care planning." 
https://journals.sagepub.com/doi/abs/10.1177/07334648211008682?journalCode=jaga
Intergenerational Impact: Here are some reactions to college student interns who participated in the LifeBio Project.
"Elsie was blind, but she kept telling me how handsome I was! She liked the sound of my voice and the sound of laugh (glowing from ear to ear). It was truly inspirational. I met a person whose story is closer to the end (of life), and I am closer to the beginning. It was something that not a lot of people get to experience." - Evan (College Student Intern)
"I had a wonderful time interviewing this sweet lady. She just so loves telling her story. Just about how wonderful her childhood was. She would give her lunch to a boy who had no lunch. She grew up in the Great Depression. She cared about other people and her church. It made me think about what I am thankful for in my life. It was just a cool experience and I would definitely do it again." – Rachel (College Student Intern)
"When I got here, I was introduced to a man who was very quiet with head to the ground. The nurses said he would not be up to speaking with me. I tried anyway, and we had a good conversation. We talked for 45 minutes or an hour. He was an Army veteran. He told me about his biggest regrets; he lost a real estate company. He told me about his wife and sons. Overall, we had a good conversation and that all happened from a man who seemingly didn't want to speak to anyone." – Nora (College Student Intern)
Increasing Quality of Care, Making Delivering Care More Enjoyable for Memory Care Staff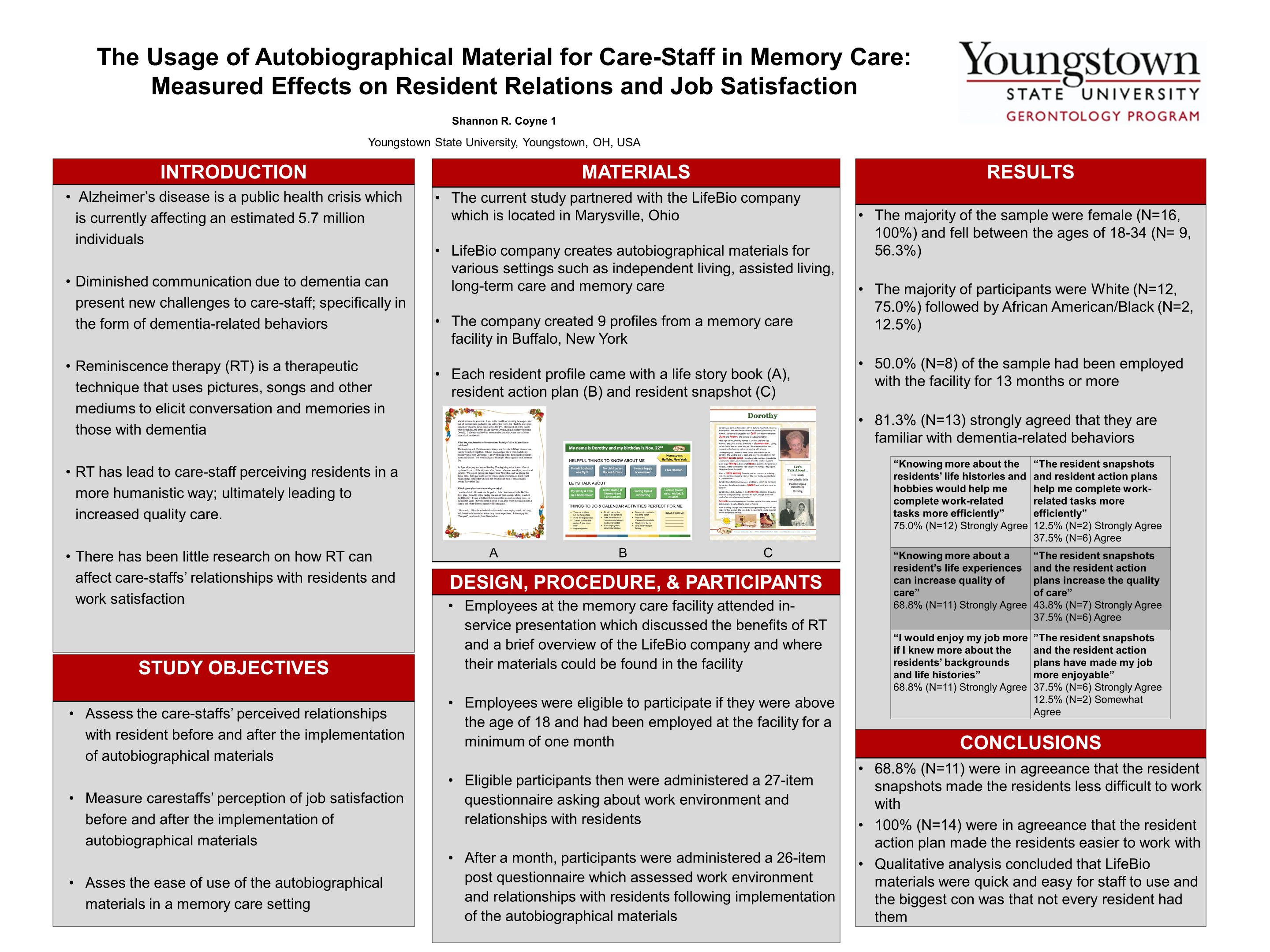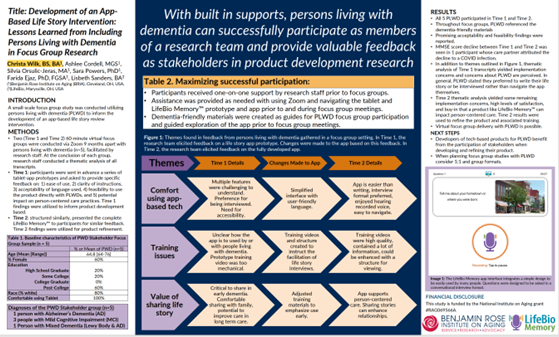 Increasing Happiness and Satisfaction with Life (Subjective Wellbeing)
The use of LifeBio was found to result in a statistically significant increase in happiness and satisfaction with life for people over age 65. This study was done in a GROUP of seniors who were engaging with each other to communicate their stories together with the research done by Iowa State University.

Happiness and Satisfaction with Life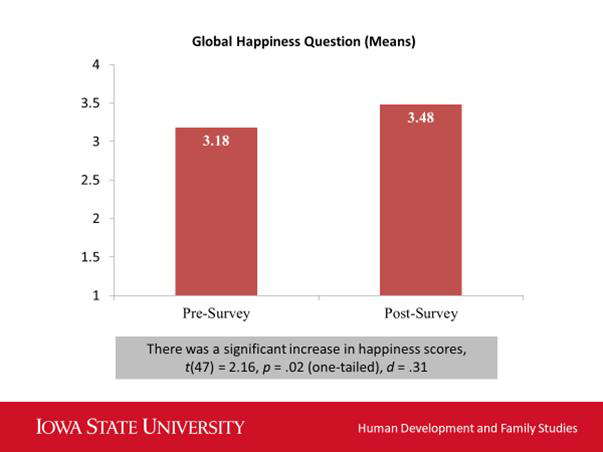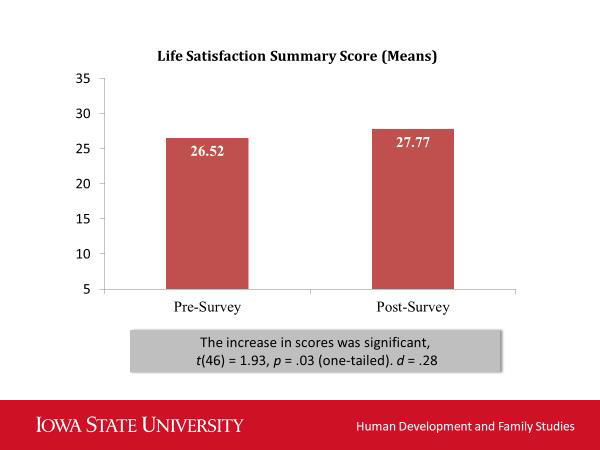 Mayo Clinic
LifeBio has been used in a program for individuals with MCI (mild cognitive impairment) and their care partners (HABIT: Healthy Action to Benefit Independence & Thinking®). LifeBio's reminiscence questions are used during the Support Group hour of the program with those living with MCI as a therapeutic tool. Reminiscence helps provide the group members with a sense of success, a way to bond with each other, and a chance to rehearse and reinforce their most precious memories during a time of episodic memory loss. Reminiscence provides a tool to allow for success and meaningful interaction, something that is often sorely needed.  "Reminiscence provides a tool to allow for success and meaningful interaction, something that is often sorely needed." Researcher at Mayo Clinic
A Survey of Patient and Partner Outcome and Treatment Preferences in Mild Cognitive Impairment — Mayo Clinic (elsevier.com)
In 1963, Dr. Robert Butler first documented the natural, therapeutic value of reminiscence. He was the founding director of the National Institute on Aging (NIA), and he later helped found the Alzheimer's Association. Dr. Butler considered reminiscence to be one of the most natural and productive processes of older people who are coming to terms with their own lives (Butler, 1963).
LifeBio Memory Focus Groups (Time 1) Feedback - Presented at Alzheimer's Association International Conference 2021 by Benjamin Rose Institute on Aging    (Note: feedback from people living with dementia and other participants helped us advance the training offered inside the app).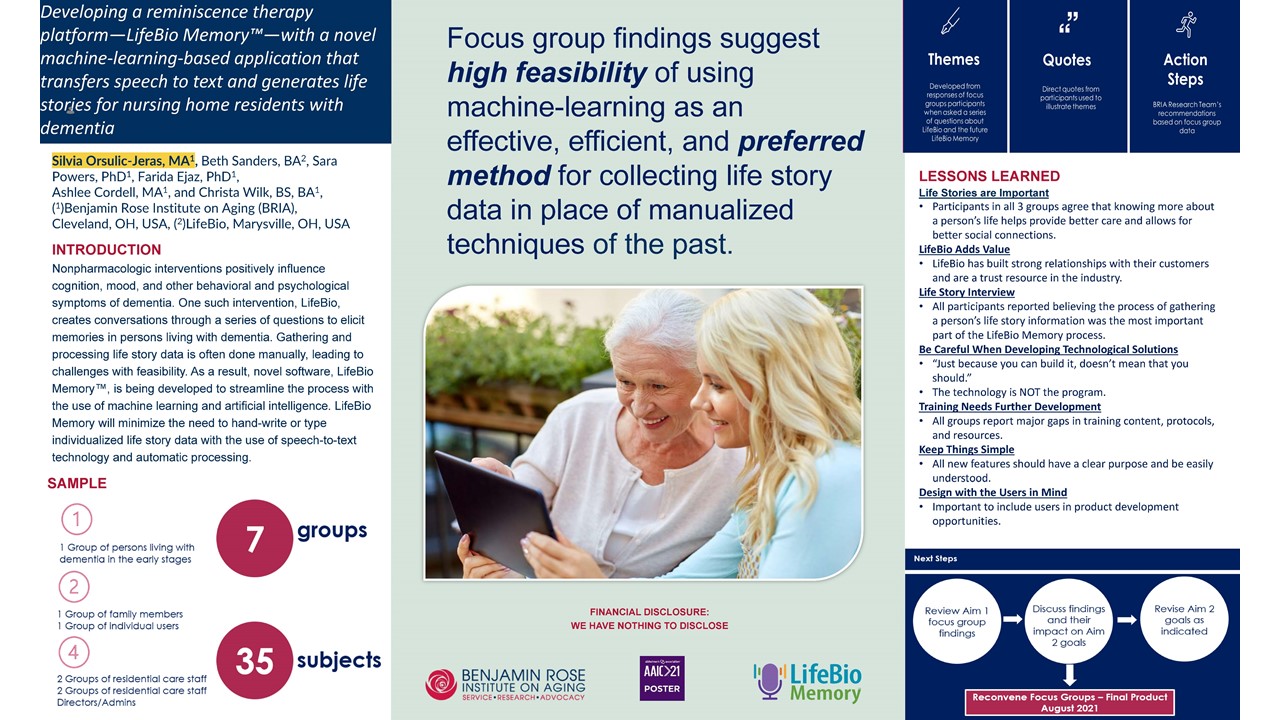 For more on Research on Life Story Work & the Power of Life Stories for Better Health click here. 
For more on Costly Aging Issues (Loneliness, Depression, Alzheimer's), click here.