CCRC / Life Plan Communities
Implementing LifeBio demonstrates a strong commitment to innovation and building community.
Research finds that participation in LifeBio increases happiness and satisfaction with life, which is vital to overall wellness. In a competitive marketplace, LifeBio shows prospective families and residents your community's deeper commitment to person-centered care.
As care needs change, a resident's LifeBio follows them, easing transitions across campus. LifeBio works with all levels of care in CCRC/Life Plan Communities. The way we gather information differs between levels of care, but the end result is the same for all. For example, in Memory Care, LifeBio will conduct phone interviews with family to gather a resident's story. In Independent Living, residents may work on their own stories individually or in small groups. Volunteers could be assigned to help capture a person's story in any level of care.
The story process in Assisted Living, Long-term Care, Skilled Nursing, and Memory Care typically creates three products.
Life Story Book – For the resident to keep 
Snapshot Summary – To display for others to learn more about the person 
Action Plan – For staff education behind-the-scenes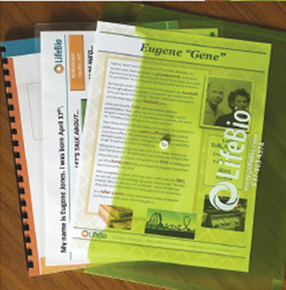 Independent Living residents have the option to write their own life story using one of our journals or online templates. A LifeBio 101 class is also available to guide them through the writing process. The LifeBio story team will work with each resident to edit and create a beautiful Life Story Book. The LifeBio process in Independent Living does not include Snapshot Summaries and Action Plans. Ask us about upgrading to include leather bound Life Story Books.
LifeBio can customize agreements for one or more levels of care.
What's Included:
Getting Started Box and Getting Started Training for staff
Website & app access to build and store residents' online biographies
LifeBio journals with life story questions
Group class curriculum for Capture Your Story / LifeBio 101 classes
LifeBio Connect interview training for volunteers, family, and staff
Phone Interviews with family members of residents in Memory Care
Life Story Books, Snapshot summaries, and Action Plans created by LifeBio staff
Engagement materials, including Story Cards and MemoryBio, for memory care
In addition to our life story services, LifeBio powers MyHello, a phone-based loneliness intervention geared towards the aging population. We know there are some residents that struggle more with social isolation than others. MyHello is a solution that provides weekly one-on-one or group calls that provide meaningful engagement for those who are unable or prefer not to leave their rooms/homes. MyHello is also a great tool for residents who may require more attention or individual interaction from staff. MyHello can be used by itself or in conjunction with our other LifeBio services. For more information about MyHello options click here.
LifeBio is a streamlined process that works across the continuum of care.
LifeBio offers custom license agreements, which include materials, training, and ongoing support. We are happy to provide you with more information, a sample pack, or a custom quote.