Assisted Living and Memory Care
Every person has a story to tell, and knowing the story helps staff care deeply. LifeBio is a natural way to onboard new residents within your community.
LifeBio is an online biography system designed using reminiscence methods to capture life stories of residents in Assisted Living and Memory Care. Residents in Assisted Living may be capable and interested in answering their own life story questions, so LifeBio has created a process that allows their involvement. LifeBio offers full assistance with phone interviews, tech support, and working with families to create life story materials. We will work directly with the residents and families so staff does not have to assume that responsibility.
In communities offering Memory Care, knowing the person's background and preferences defuses difficult situations and lessens boredom and anxiety. LifeBio helps understand the person's communication patterns and ensures that direct care staff know the best approaches for relating to the resident and their care. Care planning requires the life history and information on preferences and goals, so LifeBio supports these requirements. During phone interviews, family members provide key biographical information to help your community deliver the best quality service for their loved ones with Alzheimer's disease or other forms of dementia.
Staff or volunteers may be involved in the process, depending on an organization's preferences and available time. LifeBio will offer full training to anyone interested in participating.
The story process in Assisted Living and Memory Care typically creates three products.
Life Story Book – For the resident to keep 
Snapshot Summary – To display for others to learn more about the person 
Action Plan – For staff education behind-the-scenes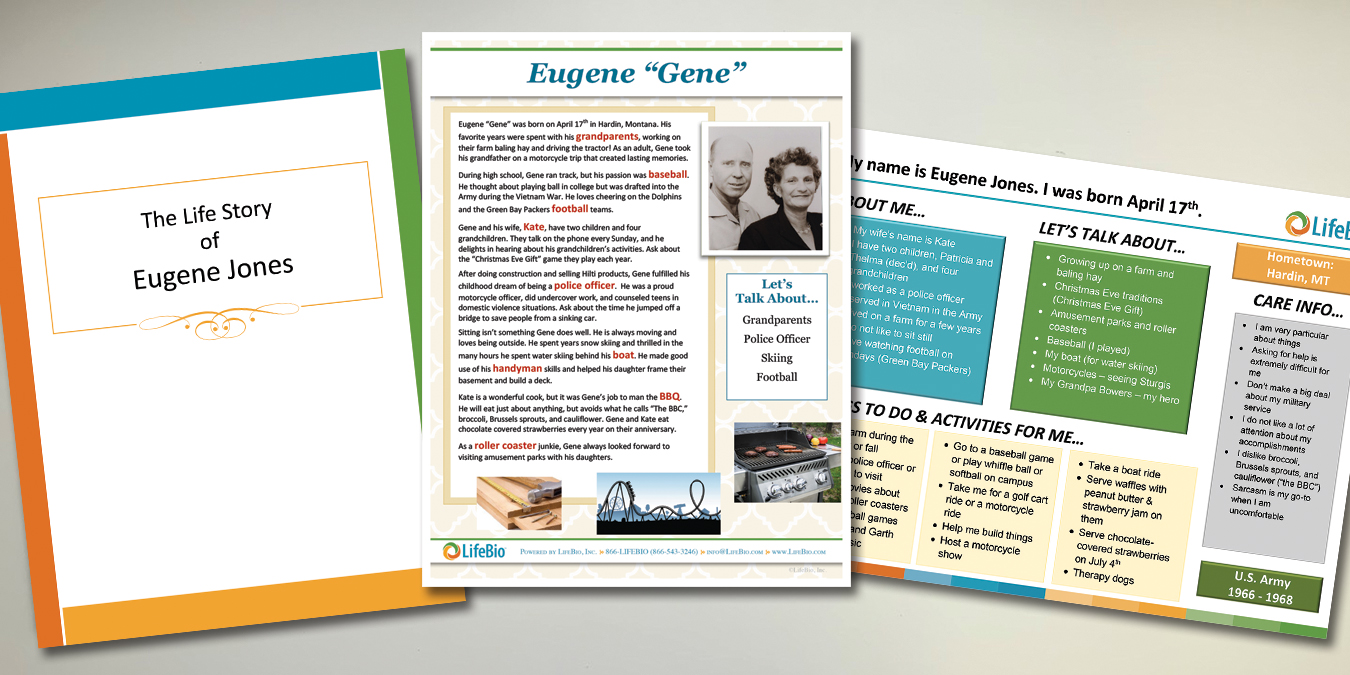 LifeBio can customize agreements for Assisted Living and/or Memory Care.
What's Included:
Getting Started Box and Getting Started Training for staff
Phone Interviews with family members of residents in Memory Care
Website & app access for families and residents to build and save stories online
LifeBio journals with life story questions
LifeBio Connect interview training for volunteers, family, and staff
Life Story Books, Snapshot summaries, and Action Plans created by LifeBio staff
Engagement materials, including Story Cards and MemoryBio, for memory care
In addition to our life story services, LifeBio powers MyHello, a phone-based loneliness intervention geared towards the aging population. We know there are some residents that struggle more with social isolation than others. MyHello is a solution that provides weekly one-on-one or group calls that provide meaningful engagement for those who are unable or prefer not to leave their rooms. MyHello is also a great tool for residents who may require more attention or individual interaction from staff. MyHello can be used by itself or in conjunction with our other LifeBio services. For more information about MyHello options click here.
"LifeBio is such a wonderful experience for the staff, family members, and residents. The staff have the opportunity to learn about the resident's life before they come to us, as well as their daily preferences, which is a great tool when providing person-centered care! Residents light up at the final product. Reading about their life and seeing old photos is such a great way to reminisce with them. One resident has carried her published book with her every day since receiving it and loves to stop staff and other residents to share!"

Sara W.
Lifestyle Enrichment Coordinator, The Magnolia at Mease Life (Dunedin, FL)
LifeBio uses reminiscence methods to encourage memories and conversations with residents in Assisted Living and Memory Care.
LifeBio offers custom license agreements, which include materials, training, and ongoing support. We are happy to provide you with more information, a sample pack, or a custom quote.